Follow these steps to create a recovery phrase:
1. Connect to your account on identity.ic0.app with your existing anchor.
2. Navigate to Recovery Methods
3. If you have not set up a recovery phrase, select Enable to create one.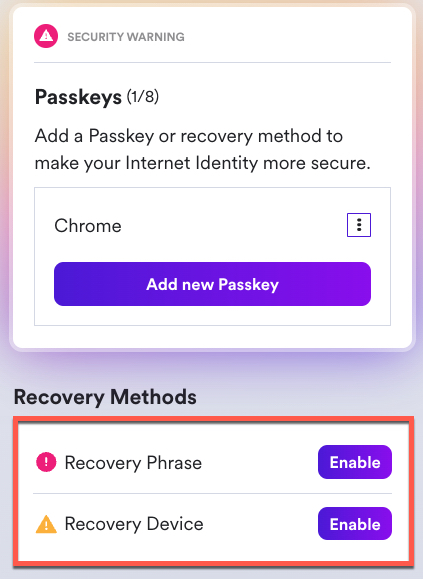 4. Keep your recovery phrase and Internet Identity number secure before checking the "I have safely stored my recovery phrase" box and continuing. Confirm your recovery phrase along with your Internet Identity number and click Finish.
Locking a recovery phrase
You can lock your recovery phrase after resetting or creating it, which means that it cannot be reset again unless you re-enter the phrase.
If you have previously locked your recovery phrase and are no longer able to access it, you will not be able to reset it. It is crucial to ensure the safety of your recovery phrase, since you need it to recover your Internet Identity.
If you already have a recovery phrase but it has been compromised and you still have access to it, you can reset it by following these instructions.
Updated